Dalbeattie Museum
A.G.M. Notice
DALBEATTIE MUSEUM TRUST,
81 HIGH STREET,
DALBEATTIE, DG5 4BT
CHARITY NUMBER SC003247
Notice is here by given of the forthcoming Dalbeattie Museum Trust 
Annual General Meeting
to be held in the
Craignair Church Centre, Craignair Street,
Dalbeattie,  DG5 4AX
at 2.00pm on Sunday March 6th 2022.
This will be followed by a slide show of pictures from "The Port Road" Railway
 Line.
Everyone is Welcome to attend 
Please be aware of current Government Guidelines for Co Vid 19 and please
wear a mask. Hand Sanitiser will be available on arrival etc.  
--------------------------------------------------------------
BBC Bargain Hunt 
Dalbeattie Museum will feature in a forthcoming edition of BARGAIN HUNT.
The programme was filmed in the Museum recently and will be broadcast on
BBC 1 
on Friday July 2nd at 12.15pm.
The Museum was able to facilitate the programme with a wide range of items and articles for this Gadget Special edition of the programme. 
If you miss it on the 2nd of July, you can always catch up with it on BBC iPlayer.
--------------------------------------------------------------------------------------------------------
2021 Season 


The Trustees of Dalbeattie Museum have taken the decision not to open the museum in April but will review the on-going situation later in the summer. The decision was taken to delay the opening until at least we see how the effects of the pandemic have on visiting tourists etc. The main concern is the lay out of the museum and trying to keep to social distancing but still giving the visitor the full enjoyment of viewing the artifacts in the museum.  Our volunteers are also at the forefront of the decision as we have to keep everyone safe and not put anyone in danger. If anyone is travelling any distance (when the rules allow) please contact the museum via our email address 
info@dalbeattiemuseum.co.uk
 and we will endeavour to open up for small private viewings. We will update the website and Facebook when we decide to open, in the meantime please all stay safe and we look forward to meeting you once we can open safely. 
Dalbeattie Museum A.G.M Notice
Due to the on-going Co-Vid 19 Pandemic, we as the Trustees of Dalbeattie Museum are unable to hold our annual AGM in 2021 face to face. Unfortunately, we don't have the facility to do a virtual Zoom meeting either.
The Accounts have been audited by our Auditor Robert Murray of Dalbeattie and approved by all the Trustee's. If you would like a copy of the accounts, please email me at donald@gillbrae.plus.com and I will email you a copy. 
All Trustees are standing for office for another year and hopefully by next March we will be in a better position to hold an AGM in the Church Hall – all going well on Sunday March the 5th 2022.
Please see attached a very short Chairman's Report as 2020 was not a good year for Dalbeattie Museum, with no visitors.
We are very optimistic about trying to get open in April, but it is looking very unlikely due to the nature of the Museum lay out and we don't want to put our volunteers in any danger. As we always say "watch this space", we will update you of any changes etc over the coming months. 
As we are unable to take your questions face to face at the AGM, please, if you have anything you want to ask, again please email me at the above email address and I will try to answer your query as best I can.
In the meantime, please – stay safe and look after your family and friends and fingers crossed, we see you all soon.
Many thanks,
Tommy Henderson (Chairman)
Donald Henderson 




DALBEATTIE MUSEUM TRUST
 SCIO CHARITY NUMBER SC003247
 CHAIRMANS ANNUAL REPORT FOR 2019 / 2020
 This year's Annual Report is unfortunately a lot shorter than in previous years due to the ongoing Co-Vid 19 Worldwide Pandemic. As with all other museums in the country the Pandemic has had a devastating effect on Dalbeattie Museum. The country was put in lock down at the end of March 2020 and with this the Trustees made the decision not to open to the public for the whole of the 2020 summer season. We were successful in our application to the Council for a grant of £10 000 towards the up keep of the museum during the on-going situation also we are grateful to the bequest of £9 000 we received upon the death of a friend to the museum. These will be used to pay usual day to day running costs of the museum, as we have no income from visitors leaving a donation. 
 Artifacts continue to be sent to us – these being 3 local ship pictures and a lovely well preserved LMS Railway Signalman's Lamp from Dalbeattie Station.
 A few Trustees have been going into the museum to check on the building and make sure all is wind and water tight and so a big thank you to them. We have tried to fulfil our aims within our constitution of being a centre of education by Trustee Ronnie Murray keeping the museum to the forefront by posting old Dalbeattie pictures from the museum on Facebook and these have been well received by old and young.
 We are planning if restrictions etc allow reopening on April the 1st 2021. 
Again, this will all depend on the level of the Pandemic and willingness of the volunteers to return.
Tommy Henderson  (Dalbeattie Museum Chairman)
 Dalbeattie Museum is now on facebook. 
Please keep watching for any news. 
  -----------------------------------------------------------------------------------------------------
 We are a local and social history museum for all the family.
We have many displays which chart past industries of Dalbeattie.
Our main display upstairs will surprise you.
Read about our local hero William McMaster Murdoch, with our Titanic Display.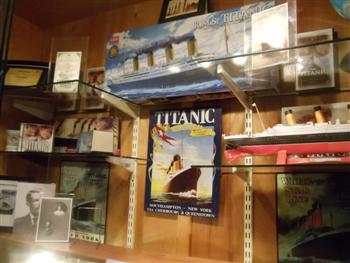 The museum is FREE to enter
(children must be accompanied by an adult)
                                             ...............................................................................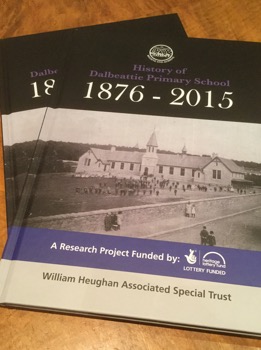 History Of Dalbeattie Primary School Is Still Available!!!
1876-2015
This book was collated because the Primary School may close once the Dalbeattie Learning Campus has been 
built. It was felt important to record and document the history of the school.
Along with the book there is a DVD of class photographs, taken over the years.
This book is free to any pupil who attended the Dalbeattie Primary School
.------------------------------------------------------
Reflections of Old Dalbeattie    
Our exciting new DVD has been launched. It is called
"Reflections of Old Dalbeattie".
Tommy Henderson reflects on some of Dalbeattie's history and along with his commentary are old pictures of Dalbeattie.
This DVD costs £5:00 and all proceeds go towards the running costs of our museum.
If you have not visited the museum, then this year put in on the top of your "to do" list and spend an hour or two reminiscing.
A warm and friendly welcome awaits you at Dalbeattie Museum.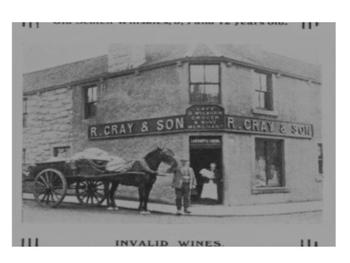 Charity No SC003247